Utah collected nearly $14 billion in tax revenue in 2021, a record for the fiscal year. here's why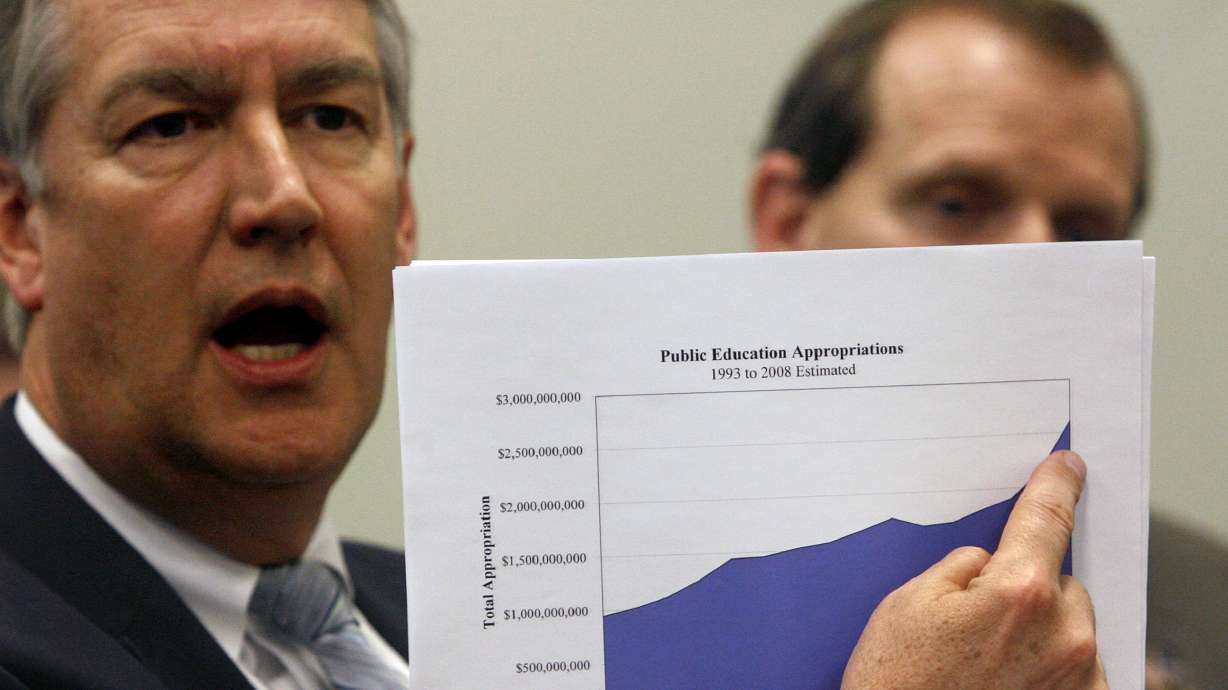 John Valentine, then president of the Utah Senate, at the Utah Capitol February 23, 2007. Valentine, now chairman of the state tax commission, said Utah received a record total in tax revenue in fiscal 2021. (Laura Seitz, Deseret News)
Estimated reading time: 3-4 minutes
SALT LAKE CITY — Utah's tax revenue is on the rise, despite and in part because of various COVID-19 policies and reactions. The Utah State Tax Commission's annual report, released Wednesday, showed total revenue for fiscal year 2021 of $13.97 billion, an increase of $3.26 billion, or 30 .5% compared to 2020 revenues.
John Valentine, chairman of the Utah State Tax Commission, said it was the highest amount the state has collected for taxes in a fiscal year.
This significant increase in tax revenue, he said, could lead to changes in Utah's next legislative session. Governor Spencer Cox suggested a food tax credit, and lower income tax rates were suggested by another Utah lawmaker, Valentine said.
One of the main components of the increase is the extended tax deadline to July 2020, which pushed some income tax revenues into fiscal year 2021; the 2021 extension was shorter and kept taxes in the same fiscal year. However, there were other factors, including the growth of Utah's population and economy.
"We had a very robust increase in 2021 where we rebounded faster than the rest of the national economy. Our income tax rebounded significantly, and frankly our sales tax really didn't experience the big drop that many places have had," Valentine said. .
He said that shortly before COVID-19 hit, Utah's tax code was amended to include distance sales taxes, which helped the state not lose revenue from sales tax. Valentine said Utah saw a 300% increase in online sales in the fiscal year.
Federal stimulus money has allowed people to spend more, which has also benefited sales tax revenue. Currently, Valentine said, the state has increased sales tax alone by 8%, which is one of the state's largest sources of revenue along with income tax.
Another factor behind the increase in tax revenue was the $720 million collected in overdue taxes, which Valentine said is higher than normal. He said the commission found that much of that amount was back taxes people paid to refinance their homes. Stimulus money gave people more money and interest rates were extremely low leading to more people refinancing their homes in the last fiscal year. When refinancing a home, people are required to release and pay any tax liens imposed on them in previous years.
The alimony tax credit suggested by Cox or the reduced income tax rates suggested by others are among options for the use of revenue that could be considered by the Utah legislature in its next session, which begins on January 18.
"Policymakers will make choices about how to restructure our tax code and ease the burdens, and then how to spend meaningful increases in public education, higher education, public safety, health and social services. The governor's recommendations in all of these areas have had significant increases to reflect the fact that we have a shift in the economy," Valentine said.
Of the FY2021 revenue, the report says 49.2% was placed in the education fund, 21.2% in the general fund, 10.9% in the transportation fund, 16% in trust funds and 2.6% in other funds.
Throughout this fiscal year, there have been many "surprises," Valentine said, due to changes in federal and state laws, some of which are still being implemented.
One of the challenges of the year for the tax commission was to solve the long queues at the Department of Motor Vehicles. Currently, the goal is to get people in and out of the DMV in 20 minutes. They developed technology to transfer car titles online, but soon had to develop an auditing system to ensure the correct price of the car was quoted.
×
Related stories
Key words
Utah
More stories that might interest you