Govt. must guarantee that tax revenues will not be subject to waste and corruption: Imthiaz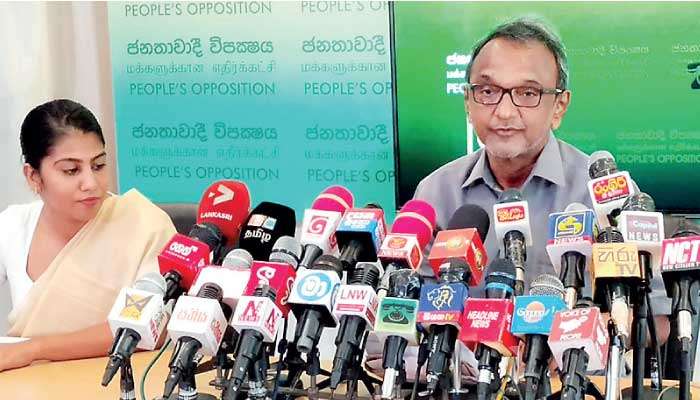 Says the government. has a responsibility to be transparent with people

Emphasizes public confidence in government. has completely deteriorated

Claims Govt. maintains a stoic silence on the initiation of legal proceedings against those responsible for economic crimes
---
Samagi Jana Balawegaya (SJB) MP Imthiaz Bakeer Markar said the government must assure the people of Sri Lanka that revenue generated from taxation will not be subject to waste and corruption. "The government has a responsibility to assure people that tax revenues will not be wasted or exposed to the risk of corruption. He has a responsibility to be transparent on these issues," he said. According to Markar, the government must be accountable for how public funds are spent.
The MP made the remarks during the press conference held yesterday at the office of the Leader of the Opposition in Colombo. Markar said public trust in the government has completely deteriorated. "Today's Daily FT, citing independent sources, stressed there should be reform, accountability and transparency when it comes to spending tax revenue. They claim that 30% of the money is spent on salaries for local government institutions and wasteful expenses. It shouldn't be like this," he said.
"How can we talk about getting out of this crisis when taxpayers' money is wasted in this way?" asked Mark.
He noted that accusations are leveled against the government for not using its tax revenues for the benefit of the people. "The newspaper also points out that the value of the rupee has fallen by 100% and inflation has risen to 68%. In times like this, people are forced to bear a heavy tax burden. Therefore, the government has a responsibility to assure the people that these taxes will not be wasted," he said.
Commenting on economic crime allegations made against Sri Lanka at the 51st session of the Human Rights Council, Markar said the government was keeping a stoic silence on the prosecution of those responsible.
Also addressing the press conference, Deputy Chairman of Samagi Youth Front, Lawyer Chamathka Ratnayake said the proposed tax reforms will overburden the people. "At the time the tax reforms were introduced in 2019, the country was in a better economic situation. Inflation was 6-7%. The rupee had not depreciated. Today, those who pay taxes are down to 4-7 hundred thousand from 1.5 million then. Compared to developing countries, Sri Lanka is with poverty stricken countries like Africa today. Therefore, the SJB would like to consider whether it is appropriate to impose such tax hikes on people," she said.