Brant Hellwig LLM '00 brings his love of tax law and NYU law to his new role as Faculty Director of the Graduate Tax Program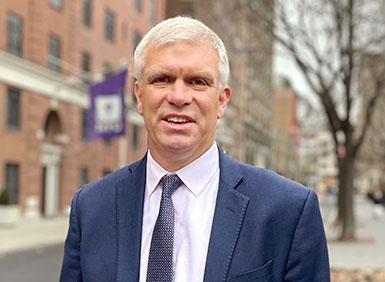 For Brant Hellwig LLM '00, professor of tax law and new faculty director of NYU Law's Graduate Tax Program, the appeal of tax law is that, compared to other areas of law, it is generally more focused on creation rather than opposition. Hellwig says he enjoys the mental challenge of solving tax problems: "It's closer to trying to solve a math problem or a logic problem. It's less argumentative or confrontational, and the nature of the pitch is constructive.
A former dean of the Washington and Lee University School of Law and former acting assistant professor at NYU Law, Hellwig has written prolifically on topics such as the tax consequences of deferred compensation arrangements, the treatment of family holding companies in under the federal estate tax. , and the tax advantage of the shares of the founders. He has co-authored casebooks on estate and gift taxation, corporate taxation, and partnership taxation, and has taught basic income tax, partnership taxation, corporate taxation, taxation of estates and gifts, as well as the course on state law trusts and estates.
Michelle Drumbl LLM '02, acting dean of the Washington and Lee University School of Law and Robert O. Bentley Professor of Law, took two of Hellwig's courses during his year teaching at NYU Law . Drumbl remembers his high level of enthusiasm and preparation. She also salutes Hellwig's performance as Dean of Washington and Lee Law School. "He has a good overall strategic vision," says Drumbl. "But I think his greatest strength is his ability to very genuinely and easily build interpersonal relationships with different stakeholders…As an alumnus of [the Graduate Tax Program], I think he's a great choice to weigh things up and make decisions that will…help keep him going and help him stay fresh and energized…. I'm really excited to see what he's going to do for NYU.
After growing up in Missouri, Arkansas, and Texas, Hellwig earned a bachelor's degree in mathematical economics at Wake Forest University and then went straight to law school at Wake Forest University. He only took tax courses at the end of 2L, at the instigation of his father, an accountant. Hellwig liked him so much he took as many tax offers as he could in his third year before receiving his JD in 1997.
After two years as an estate planning associate at Bell, Davis & Pitt in Winston-Salem, North Carolina, Hellwig enrolled in NYU Law's Graduate Tax Program. He did this in part to position himself for a possible college career, although he considered it a "long shot". At NYU, Hellwig's instructors included Professor Noël Cunningham LLM '75, Professor Laurie Malman '71, and Professor Wayne Perry of Taxation Daniel Shaviro, all of whom still teach at law school today. The colloquium that Shaviro co-teach, the Colloquium on Tax Policy and Public Finance, made a particular impression on Hellwig, with its array of leading tax scholars from across the country. "It was a unique curricular offering that I couldn't have gotten anywhere else," he says. "I really broadened my horizons by taking this course." He also worked with Ronald and Marilynn Grossman, Emeritus Professor of Taxation Deborah Schenk LLM '76 as a student editor of the Review of tax law.
Hellwig recalls the energy of the program and how the offices of the tax faculty were clustered in a particular part of the fourth floor of Vanderbilt Hall, which he visited regularly: "It was a great year professionally and personally. "
After graduating, Hellwig spent a year in Washington, D.C., as a clerk for Judge Juan Vasquez LLM '78 of the United States Tax Court. In 2001, Hellwig returned to NYU Law as an Acting Assistant Professor in the Graduate Tax Program, where he taught Real Estate Transaction Taxation, Tax Procedure Investigation, and Estate and Gift Taxation that year. -the. He enjoyed his role as a teacher and the opportunity to spend time in New York with his wife, Tammi, also a lawyer, and their newborn daughter.
Among his students were several alumni of the University of South Carolina Law School, which was looking for a tax professor. Hellwig's students put him on their alma mater's radar, and with the blessing of NYU Law, he took a tenure-track position there (joining F. Ladson Boyle LLM '75 at the tax school). He spent the next decade in South Carolina, teaching a wide range of tax courses. His scholarship on estate and gift taxation led to the next phase of Hellwig's academic career when he authored a casebook on the subject with Robert Danforth, John Lucian Smith, Jr. Memorial Professor of Law at Washington and Lee University School of Law. In 2012, Danforth persuaded Hellwig to join Washington and Lee Law School, where he again taught a wide range of subjects.
Three years into his time at Washington and Lee, Hellwig was named dean of the law school. While focusing on navigating the school through a tough market for legal education, Hellwig also took a broader view that encompasses building morale and enthusiasm within the school. Hellwig knew all of the roughly 360 students by name and could greet them individually in the hallways, Danforth notes. During Friday flag football games on the law school lawn, he could be found flipping burgers on the grill.
"If I could have made him dean for life," says Danforth, "I would have. He was just a great decision maker. He was very fair. He always had the interests of the students in mind, primarily – of the faculty as well, but he was really student-focused.
Stepping down as dean in June 2021, Hellwig took a brief sabbatical and began his new role at NYU Law in January 2022. At Washington and Lee, his deanship duties limited the time he could devote to teaching . He notes, "I'm really excited to be taking over the role of full-time tax professor. This semester, Hellwig will again teach estate and gift taxation, exactly 20 years after first teaching it at NYU Law.
He says he is also looking forward to rediscovering New York with Tammi, who will be working with the law school's immigrant rights clinic, and to being visited by their two daughters, both now in college. Hellwig celebrated her return to New York on New Year's Eve with a four-mile midnight run through Central Park with her family. While Hellwig likes to run, he likes to eat more. He plans to explore local restaurants that are flying under the radar.
But running the graduate tax program is always at the forefront of Hellwig's mind. He looks forward to partnering with NYU Law's Tax Law Center, which launched last year. Beyond that, he says, "I want to do everything I can in the role of faculty director to continue to create a sense of energy and enthusiasm within the graduate tax program, so that our students not only learn a lot, but also feel affirmed in their decision to come to NYU.
"The ultimate measure of how well we are doing as a program is whether our alumni five or ten years later look back and think, 'Yeah, my LLM from NYU made a difference,'" Hellwig adds. "That's how I feel. I owe a lot to this school in terms of launching my teaching career. I've had a ton of positive experiences here, and it feels good to be back.
Published on February 7, 2022